Parimatch FAQ
The FAQ, or Frequently Asked Questions, section of the Parimatch mobile app and casino & betting website contains all the important answers to the issues Indian players face the most often. You can read them below, and if that's not enough, you can always ask the support staff for help.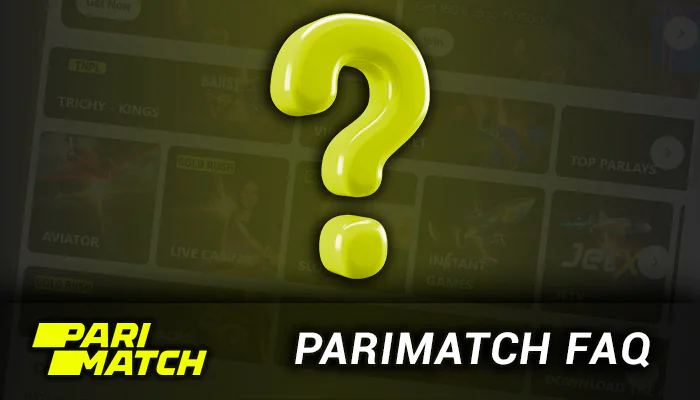 Verification
Do I have to go through a verification procedure?

Yes, every user is required to do so. The company must verify the user's identity before he/she wants to withdraw money.
How long will it take to confirm my account?

Generally, it does not take more than 24 hours after providing all the required documents. If the photos of a particular document are of poor quality, the security service will ask you to resubmit them.
Deposit
What should I do if I can't make a deposit to Parimatch?

Sometimes this problem can be due to technical or internet problems. If this is the case, simply wait a couple of minutes and try again on Parimatch. If this doesn't help, try changing your payment method or contact support.
I have topped up my Parimatch account, but the money does not show up in my balance.

Please contact the support team starting with which payment method you have used. Also send a screenshot of the transaction you made, with the amount, time, and date.
Withdrawal
I have made a withdrawal, but it has not yet been approved and has "Pending" status.

Please wait while the withdrawal is in progress. In some cases, it may take up to 48 hours. Usually, withdrawals are processed in less than 15 minutes.
I made a withdrawal but I want to cancel it and refund the balance. Can I do it?

You can only do this if the withdrawal request status has not been issued yet. If it has been issued, it cannot be canceled.
Betting
I have a negative balance. Why and what does this mean?

It may be caused by a betting relocation due to an incorrectly entered result. To get more information, please contact the support team.
My bet has still not been settled and the event is over. What should I do?

If the bet has not been settled for a long time, please contact Parimatch support. Feel free to use live chat or e-mail.
Promotions
I made a deposit but did not receive a bonus. What can I do?

The bonus can be credited within 24 hours. If the reward is not given after that period, please get in touch with the support staff.
Why was the bonus amount deducted from my balance?

If you have not met the conditions of the bonus, the funds will be automatically deducted.
Data Recovery/Correction
What do I do if I forget my password?

You can use the password recovery function. It is available in the form used for logging in.
I did not receive a verification code when I tried to activate my phone number. What is the matter?

Please contact support by any of the available methods and include your telephone number so that you can be helped to resolve the problem.
Casino
The money won has not been credited to my account. What to do?

Please contact support and provide a screenshot of your betting history displaying the date, time, and sum of the bets in question.
I made a deposit but I can't play in the casino. Why?

Perhaps you have an active sports welcome bonus. To solve this problem, you need to transfer the money to a special casino balance (cashbox).